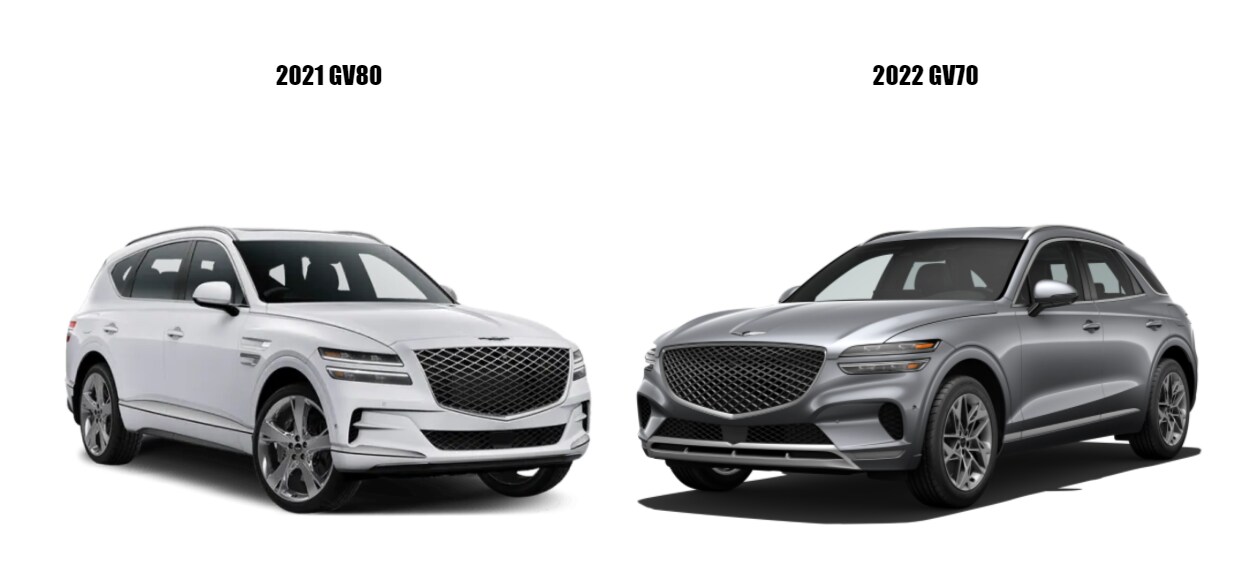 The Sports Utility Cars SUVs manufacturing company, Genesis is adding new SUVs to its range of vehicles. Genesis produces luxury SUVs hence a strong competitor of Mercedes Benz and BMW. Recently, they came up with the new models GV70 and GV80. The Genesis model GV80 came in the year 2021 while the GV70's sales will start in the year 2022. The GV70 is a smaller Sports Utility Vehicle with a cheaper price than the GV80. This model GV70 is almost 8000 dollars cheaper than the other model but the GV80 model is bigger and has more capacity for passengers and cargo. Both of these models provide a premium driving experience to their users and with these luxury SUVs, owners can have the best level of satisfaction. In addition to this, both models come with warranties that no other luxury SUVs brand provide.  
Interior Features of the GV70
This new
2022 model of Genesis
provides many comforts to its owners because it has several innovative interior features. The compact GV70 has extra cargo space with a higher seating position. The interior design is more sleek and attractive than the previous Genesis model. The fine materials used in the making of the interior and fine edges make it look luxurious. Moreover, there is an infotainment display located at the dashboard which shows the speed of the car, fuel level, temperature, etc. creating a comfortable experience for the driver. The standard features include the Android Auto, Apple Carplay, WI-Fi hotspot, Bluetooth, and many more. A high standard sound system Lexicon is also available as an option with this model which creates a theater like sound system in the vehicle.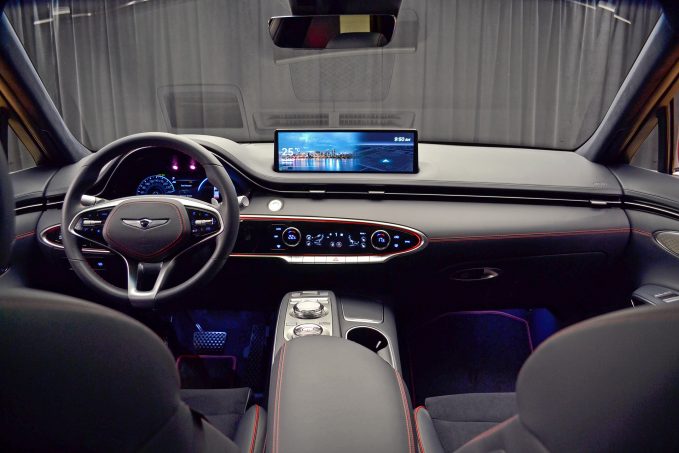 Interior Features GV80
The GV80 2021 model also has a very luxurious interior and being a bigger car than GV70, it is more spacious with a seating capacity of 5-7 people. If we talk about the features then this car has 14.5 inches touchscreen in front of the front row for navigation and entertainment purposes. This vehicle also comes with heated front seats and an option of a power lift-gate. The upper trim models have leather upholstery and better engine performance. Furthermore, this model has those features that other brands are providing in their cars that come with a hefty price tag, unlike this one which is comparatively a lot cheaper. Like the GV70 model, this also has an infotainment display and interior that is minimalist which gives it a very classy and luxurious look. The seats are comfortable and have the massaging feature which creates a calming experience for passengers. This car can fit up to 5-7 people as the third row of this car is optional. This model also comes with standard features such as the Android Auto, Apple Carplay, WI-Fi hotspot, Bluetooth, etc.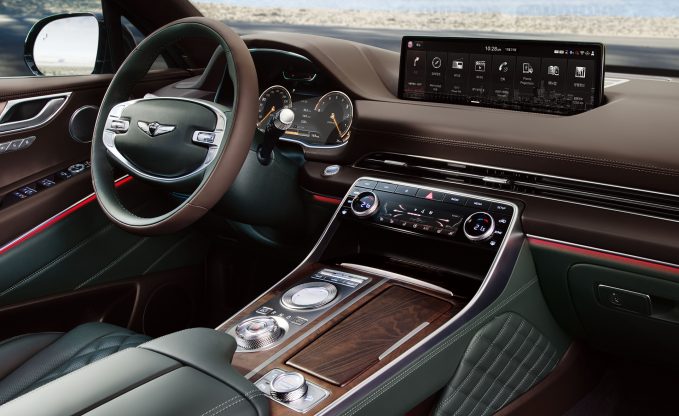 Safety Features Genesis GV70 vs GV80
Both of these models of Genesis have a standard driver's assistance system which provides incredible safety to its cars' owners. Moreover, the structure of cars is made such that it can bear impact and save the driver and passengers from injury. The safety feature sof both these models are described below in detail. 
Safety features of GV70
There are some standard driver assistance features present in this vehicle which includes the automatic emergency braking system, lane-keeping assistance, lane departure warning, as well as pedestrian detection. The key safety features include the following features;  
Adaptive Cruise Control
This feature in this model helps the vehicle to adjust to the normal safety speed of the car and helps maintain a safe distance from other vehicles. 
8-Airbags Safety system
This model has 8 airbags placed at the front of the driver and passenger seat, on the sides of front seats, a curtain and near the driver's knees airbags, and a center side airbag to protect the driver and the passenger from colliding with each other in case of an accident.   
Safety Features of GV80
This model also has driver assistance safety features including an automatic emergency braking system, lane-keeping assistance, lane departure warning, as well as pedestrian detection. The key features of this 2021 model are;
Autonomous Driving Mode
This feature is an innovative feature of SUVs in which the car learns the driving pattern and styles of the driver which helps in maintaining safe operating of the vehicle.
Lane-departure warning system
This system warns the driver when the vehicle is off the road track or off the lane where it is supposed to be. 
Common Safety Feature of Both SUVs
The Genesis GV70 and GV80, coming from the same company, have many similar safety features. If we talk about some of them then one is the Pedestrian Detection System which helps detecting the side-walks and footpaths so that the vehicle does not get damaged with impact. Another feature that is similar is the safety braking emergency system which helps to stop the car in a case when the driver cannot immediately act to press the brakes when there is some obstacle or other vehicle in front of it.   
Genesis GV70 vs GV80 Trim levels
The Genesis model GV80 is available in three grade levels that are; standard, advanced and prestige. On the contrary, when GV70 will come out, it will be available in four trim levels that are; standard, select, advanced, and sports prestige. The details of these trim levels of both the models are given below. 
Trim levels of GV80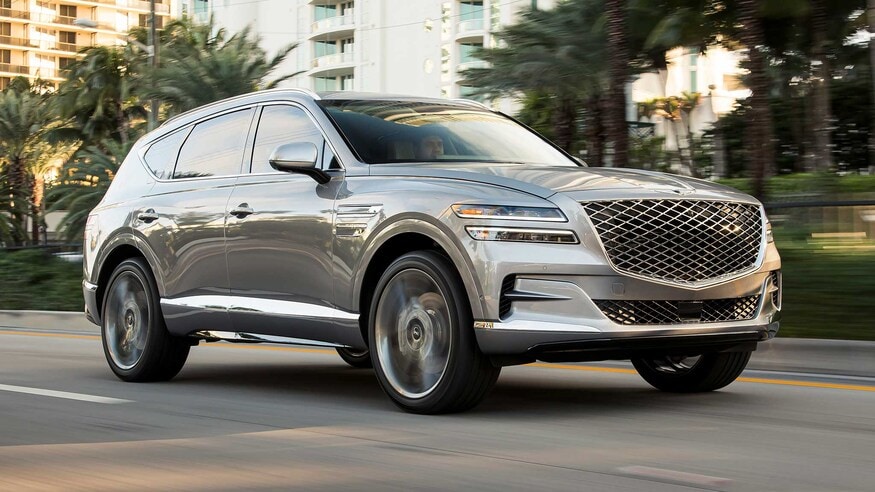 Standard trim level- Starting MSRP $48,900
This level has features such as 360 degree parking sensors, 8 speed automatic transmission, rain sensing wipers, heated seats of the front row, premium audio speakers, collision mitigation system, cruise control, semi-autonomous driver assistance, camera view system, and a 300 horsepower engine. 
Advanced trim level - Starting MSRP $53,250
This trim has additional features of leather seating and 12-way adjustable front seats. Moreover, it comes with heated seond row seats option and a 12 speaker audio system and heads up display.
Prestige trim - Starting MSRP $57,650
The additional features this variant has are power door closure which is in control of the driver, leather seating surfaces and a 12.3 inches digital 3D cluster and vanity mirrors in the 2nd row of seats.
Trim levels of GV70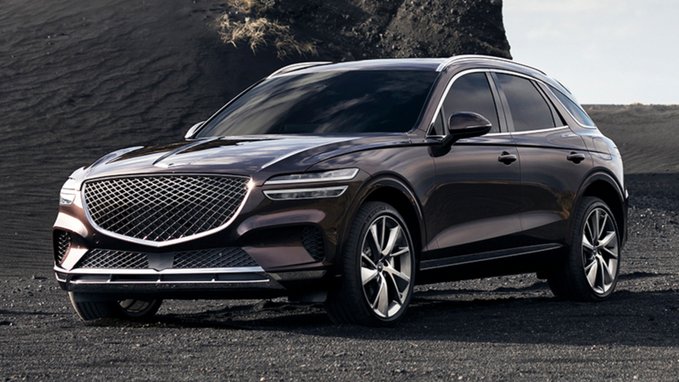 Standard trim level- Starting MSRP $41,000
This standard trim includes all the standard features of the basic Gv70 model such as the all-wheel drive, a highway driving assistance system, hands-free power lift-gate, wireless charging system, a 14.5 infotainment display, and much more. The engine has 300 horsepower with 8-speed automatic transmission.  
Select trim level - Starting MSRP $45,000
This select trim has additional features such as a panoramic roof for a better view for all passengers and airy inside. In addition, there is a 16 speakers Lexicon sound system.
Advanced Trim - Starting MSRP - $ 49,150
The prominent features of this trim has leather seats with a heated steering wheel option, rear side sunshades which normal cars do not have, and a remote controlled smart parking assist.
Sports Prestige- Starting MSRP- $ 52,750
The added features in this upper trim include the sports appearance of this car which makes it look edgy and sporty, leather seating with mesh insert which gives more sporty looks, the massaging seat option, and the highway driving assistance system. 
Genesis GV70 vs GV80 Functionality benefits 
Genesis GV80
Talking about the functionality benefits, this model has turbocharged engines which give it a sporty car feature and the looks of it are luxurious from the inside. In addition to this, the space and features it is providing are at much cheaper prices than its competitors. 
Genesis GV70
This newer model that is coming in the year 2022 has several new features. One of the prominent features that we talked about earlier as well as the 8 airbags safety system. This feature will not only enhance safety but will also reduce the number of accidents that take place due to the impact of vehicles with other things such as cars and obstacles. This would ultimately lead to more customer loyalty towards the company Genesis as they would know that the company they prefer for buying their cars is constantly trying to strive for improvement.
Both these models are according to the latest trends of the market that were made while keeping in view the demands of the customers. GV70 is the newer smaller-sized SUV model with newer features with a cheaper price tag while the other 2021 GV80 model is more spacious with luxury features with a price tag higher than GV70. Both have their own perk so, it is up to you which model you decide to buy. 
Visit Genesis of Highpoint
We hope this analysis has helped you see the differences between these two models and has helped you in your decision in choosing one. If you are interested in either of these two SUV models, we encourage you to come visit our lot located in Highpoint, NC or fill out the contact form below. If you are near our lot, come in to take one of these new models for a test drive.